Graduation was at 9:15 on Friday morning. Joyce chose her Easter dress to wear for the occasion, and we accessorized it with hat and parasol. These are also the first pictures of her new haircut! Perfect for the summer, and she just loves it!

The graduates presented their parents with a carnation during the processional. Joyce wanted each of her guests to get a flower, so we also bought silk carnations for grandmother and aunt, who were also able to attend the ceremony.
The Principal, Mrs. Keleshian opened the ceremonies. She gave a lovely speech to the children inspiring them to be lights to the world as they move on to their new school at the top of the hill.

The band director, Mr. Gunter, led a flute quartet in Pachelbel's Canon in D, which gave me goosebumps.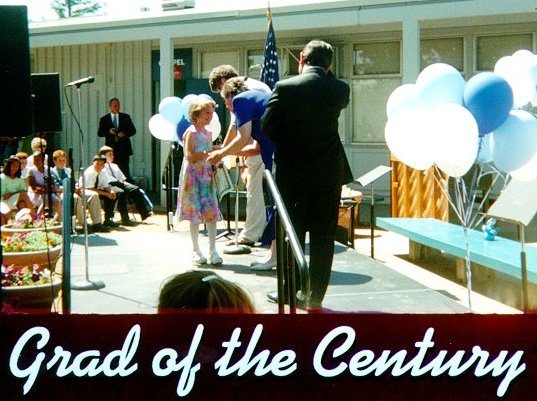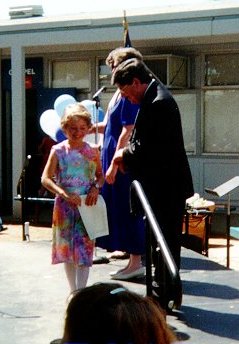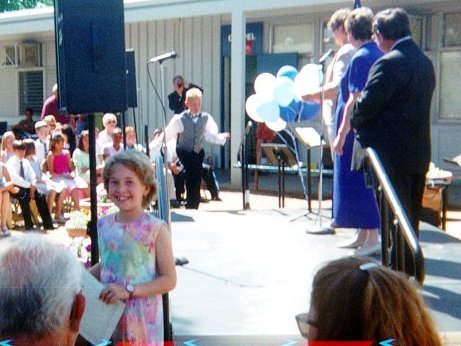 Most of Joyce's friends graduated before her, since she is at the end of the alphabet, but finally she received her diploma! She shook hands with the Principal, then the Chancellor, then it was time to REALLY smile!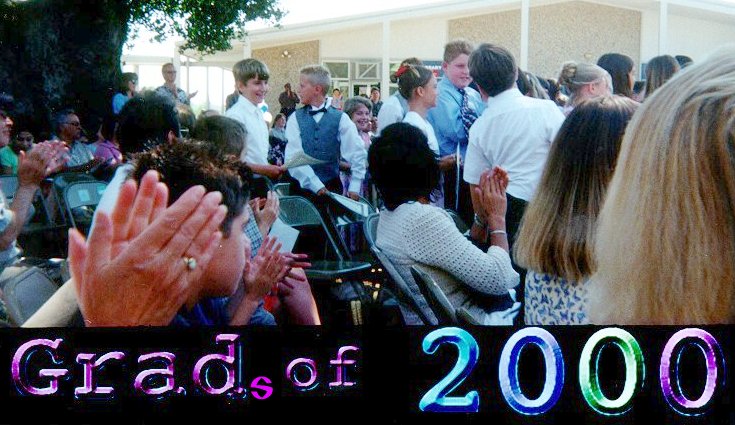 And finally, Joyce is a graduate, along with all of her classmates. They look like a pretty happy bunch.

There were some whose parents felt compelled to spend their Silicon Valley wealth on limos to take their children and their friends to graduation lunches. One was a Ford Expedition Limo, and the other was -- get this! -- a HummVee Limo! I had to make a comment as we were walking out of the parking lot that these certainly were signs of excess.

Despite that, we went out and had a lovely, less excessive lunch at Joyce's favorite eatery.