FEBRUARY
Just after Joyce returned from December's 2 week school break, we dove right into rehearsals for Seussical the Musical based on the books of Dr. Seuss. Her roles were a fish, a zebra, a lion and a hunch. Performances were the last two weekends in February, and first two of March.
Here are shots of rehearsals, props, performances, and post-show fun, as well as pictures of Joyce in the two cool costumes her mom made for her for the show! Here's one of her in her zebra costume with Stage Manager Charles.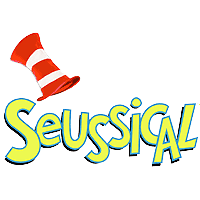 MARCH
And when Ana wasn't busy making costumes, she was busy making props, since she was enlisted by the director, Aaron (her son in Joseph/Dreamcoat) to be the Props Mistress for the show.
On closing night, she got a few shots of the props she was proudest of.